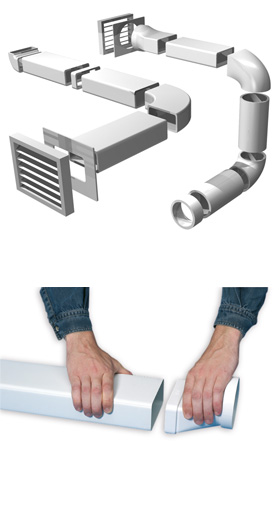 SPECIFICATIONS
Made of fireproof and self-extinguising material.
Maximum temperature resistance 80ºC.
Smooth internal wall ducts to reduce pressure loss.
Better performance in Ventilation, Aerothermy and Extraction than the flexible.
SIMPLE INSTALLATION
QUICK ASSEMBLY.
Male-Female connection.
ONLY 55 mm HIGH.
Suitable to any structure due to its low profile. Specially in false ceilings.
CIRCULAR AND RECTANGULAR SECTION.
Adaptable to any type of building, even residential and tertiary.
SIMPLE FASTENING OF THE SYSTEM.
Rectangular and circular clamps.
SAVINGS IN TRANSPORT AND STORAGE
Thanks to the foldable ducts Tubpla® Plus.
Less space to stock and transport.
FIABILITY AND LONGEVITY
Recommended installation for humidity sensitive and heat recovery ventilation systems.
Without risk of deterioration by moisture unlike the classical flexible ducts.